Dxlive is a Japanese cam girls website that offers Asian webcam chat with women in Japan.
We share the prices and if it is legit and safe in this review of dxlive.com
Again, DXLive is a Japanese-based cam site filled with beautiful cam girls. Although there are over 40,000 Japanese cam girls signed to DXLive, keep in mind that the vast majority are based out of Japan, so if you are in the U.S. like me, a lot of the site's models will be sound asleep during your most active hours. When I visited DXLive, only fifty models were online.
DXLive Prices, Features & How it Works
Since DXLive features exclusively Japanese cams, there may be a bit of a language barrier to overcome if you are not fluent in Japanese.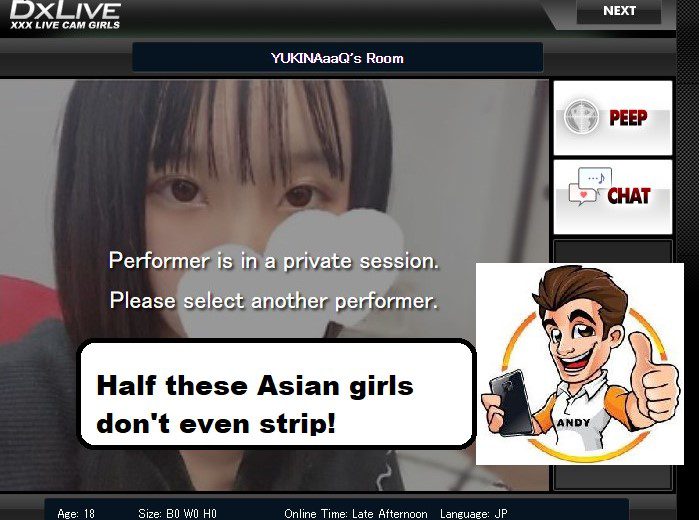 Unfortunately, DXLive does not feature an in-site translation tool, so you may have to use assistance from other translation apps to keep communication with the models as smooth as possible.
Like most cam sites, DXLive displays all their models' profiles in rows of previews, but instead of using text to communicate key details like the girls' ages or room topics, DXLive communicates relevant info with icons. Luckily, the site includes a useful key at the top of the homepage to help you identify which models speak English, which models are using interactive toys, and how many viewers are in each active chat room.
If you want to chat with the girls, you will need to install the latest version of Flash and purchase points, DXLive's in-site currency. Unlike traditional cam sites, there's no such thing as a free chat on DXLive! Each minute of chatting or simply "peeping" costs 1.2 points and once points run out, your connection with the model will be terminated. One point on DXLive converts to roughly $2.00 USD. Here are the point packages DXLive currently offers:
25 Points for $50.00 USD
50 Points for $100.00 USD
110 Points for $200.00 USD
170 Points for $300.00 USD
If you want to take advantage of a model's services on DXLive, this will also cost points. Here is their price list as advertised on their website:
"2SHOT" One-on-One Private Chat: 1 point/minute
"2WAY" Chat (Cam-to-Cam): 1 point/minute
"2SHOT" + "2WAY" Chat: 2 points/minute
Remote Toy: 1 point/minute
Double Remote Toy (use two toys at once): 2 points/minute
Secret message (privately message the model): 1 point/message
GIFTS (tips):

Teddy Bear: 3 points
Flower: 5 points
Gift: 10 points
Heart: 15 points
DXLive Findings & Summary

While I think that DXLive has some potential to be a solid platform for Asian fetishists, there are some major drawbacks that prevent me from really enjoying the site. My chief complaint is that there is no way to preview any of the models' cams to see if purchasing points will even be worth it. DXLive itself states that their models' equipment may vary in quality, so there is no guarantee that any of the girls are streaming in HD.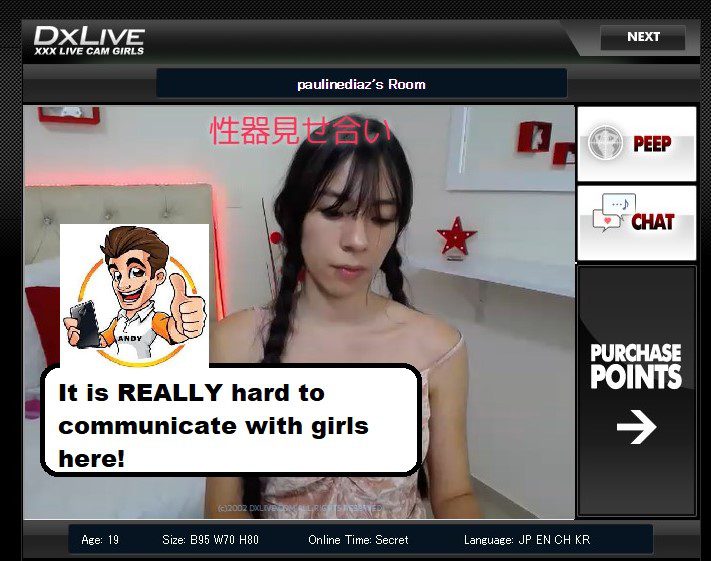 On the off chance that you take the plunge and purchase points, simply checking out a cam girl's chat room costs points, so you could be losing points just trying to find the right broadcast for you.
It doesn't help that DXLive doesn't use categories or tags that identify their models' specialties beyond whether or not they are using interactive toys.
Instead of wasting your money on cams you may not even like, try Streamate instead!
There are more Asian women and the quality is far superior at Streamate.com.
This is by far the best Japanese live cam site for chatting with sexy Japanese cam girls. They even have a site-native translation tool to take the stress out of chatting so you can close out Google Translate and keep your eyes on the show.
The bottom line is I suggest you read more about the best cam sites so you can get a better value in cam2cam chat.