We tested out VoyeurHouseTV.com and share if it's any good in this review. Get the skinny on what a bust Voyeur House TV really is below. Voyeur House TV is a place to watch hidden real life cams of couples from different regions.
Voyeurism is a controversial fetish associated with deriving sexual pleasure by observing others. What better way to satisfy this dark impulse than to set up live cameras throughout multiple homes and just keep them running? VoyeurHouseTV does exactly that.
As you will read in our review of VoyeurHouseTV they do not offer any real hidden sex cams and the level action is not worth the cost. There are better voyeur web options. That said; let's talk more about how VoyeurHouseTV works.
VoyeurHouseTV Review: Waste of Time!
Upon entering VoyeurHouseTV's homepage here is what you are met with.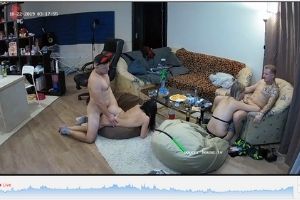 As with most voyeur sites, VoyeurHouseTV allows visitors to access a few of the private HD cams for free, but viewing intimate areas like bathrooms and bedrooms through hidden sex cams requires users to sign up for a subscription.
A standard membership on VoyeurHouseTV costs $29.95/month.
The site also hosts a large video gallery boasting over 100,000 videos. All of these videos capture the subjects' most intimate moments that range from soft-core shower scenes to full-on sex.
Like similar voyeur projects, VoyeurHouseTV's live feeds stream the day-to-day lives of several couples without scripting or interruption.
This candid kind of streaming allows viewers to see natural intimate reactions without the performative aspects of traditional porn.
Of course, this is what most people sign up for, but the reality of the project is disappointing, to be honest. Not only this site, even VoyeurHouse, and Camarads also falls in this category.
Most people are falling into these sites with different expectations and that expectation is definitely not fully filled.
If you want to see any of the site's archived videos, however, you must upgrade to a premium membership.
Buying a premium membership for longer periods of time will earn you a discount, so here are the packages VoyeurHouseTV currently offers:
VoyeurHouseTV Features & Prices:
$39.95/30 days
$95.95/90 days (20% off–$24 discount)
$180.00/180 days (29% off–$70 discount)
$299.95/365 days (38% off–$186 discount)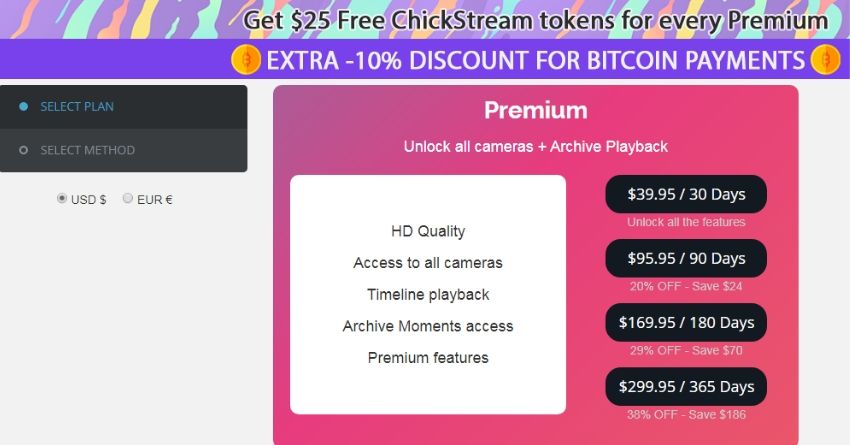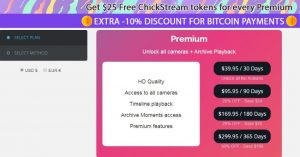 On VoyeurHouseTV, you can't message or otherwise communicate with any of the site's participants, but you can get even more intimate and order wore underwear from them after it's worn for a specified time period (up to 3 days).
While the website still advertises this service, their order form is not even functional, at least at the moment.
The site looks good and we are not focused only on that. Sure as heck they know how to lure users here in the feature of 4K cameras and stuff.
In reality, you really cannot sit around and waste hours of your time looking at other people's moments. It's not free, we can tell you that.
Like to watch couples doing sex? You gotta pay. It's not as free as you imagined. Not only that, but it's also not exciting or has a variety of fetish things. That's one of the biggest flaws.
And speaking of site functions that don't work, site members no longer have the option to purchase gifts for the project's participants through the website.
If you think VoyeurHouse Tv is the only one doing such nonsense, I suggest you also check RealLifeCam (review at the link) for a glance. People are crazy to watch hidden cams. But the reality is those aren't hidden anymore. It's what couples have signed up for.
VoyeurHouseTV also has an in-site blog featuring the latest news and updates on the site. Who on earth really cares about it?
There is nothing exceptional that Voyeur-house TV can do stopping people to visit erotic sex cam site LiveJasmin (review at the links).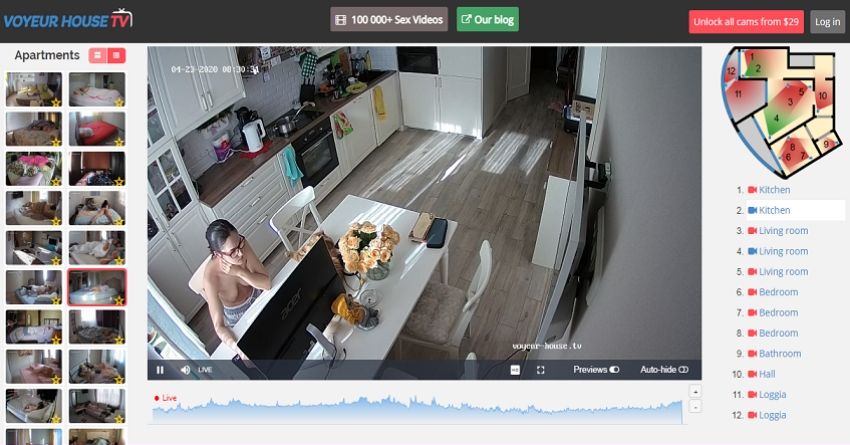 We certainly do get carried away with Voyeur Cams but people have great live cam sex to watch nowadays.
VoyeurHouseTV's premium membership is far too high just to access a few extra cams.
The membership fee doesn't even cover the cost of viewing the site's video archives. In my opinion, becoming a premium member on this project is just not worth it.
VoyeurHouseTV can be fun for some users but if you're really into watching erotic couple sex cams, just think twice spending money here.
VoyeurHouseTV Findings & Summary: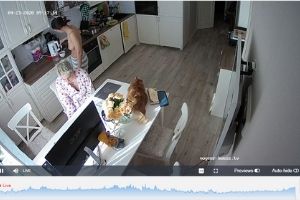 Voyeurism is a unique fetish and sites like VoyeurHouseTV and similar projects create a healthy outlet for what is normally perceived as a disturbing, invasive kink.
That being said, I do have a few complaints about the site.
When listing the available cams, they don't differentiate well between which voyeur villas you are viewing.
On top of that, some of the site's features like ordering panties or gifts for the participants don't even work.
End of the day, it's watching real-life couples sex that may or may not satisfy your needs. That's where adult sex cam sites like Streamate and Chaturbate (review at the links) comes into the picture.
Why pay thirty dollars a month to watch empty houses when you can take virtual tours on your local real estate web page for free? That's not what you're there to see!
Try a real adult cam site instead like LiveJasmin.com, where you can jump straight into the action and chat with thousands of sexy models at any time of the day or night.