Random chat apps have proven themselves to be extremely unsafe numerous times, and yet the Internet just won't let this site genre die. Just recently, a new random chat site, Emerald Chat, joins its ranks as a self-proclaimed "new Omegle." Like Omegle, Emerald Chat offers users a way to meet and chat with strangers around the world via webcam without ever having to register.
Emerald Chat Features
Emerald Chat claims to have a host of new features the random chat world has never seen before, even promising a bot-free experience. This feature in itself would be extremely impressive since its predecessors have long been plagued by various bots delivering canned responses in a feeble attempt to get new users to sign up for various other websites. In addition, Emerald Chat offers one-on-one text chat and free video chat, group chat, and photo/media sharing.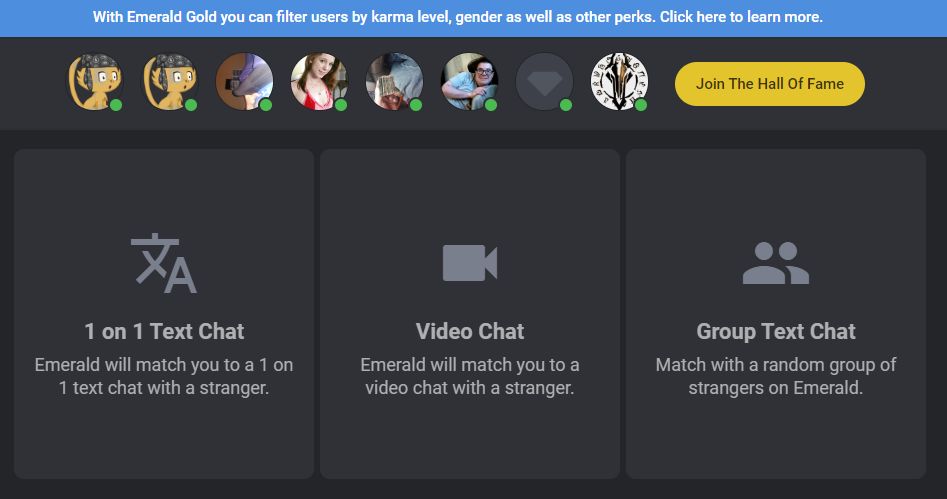 If you want to stack the odds of meeting a decent and interesting human being in your favor (as much as the site will allow, anyway), Emerald Chat even offers filters to sort matches by gender and "karma rating", among other criteria.
Fortunately, if and when anything does go awry as you encounter Internet strangers, the platform provides full-time moderation and support. Or so they say?! 🙂
Since Emerald Chat is relatively new, their mobile app for Android and iOS is still lurking on the horizon, but the homepage says that it "works great", so for now, we'll just have to take their word on that.
The problem though is the users and lack of anybody but dudes wanking off yet again!
Emerald Chat Findings and Summary
Emerald Chat is currently working on an updated design to reflect its younger audience, which is at least one thing it has over Omegle. Emerald Chat's dedication to keeping the chat room bot-free (and keeping low-quality users to a minimum) is dictated by the karma system–an in-site mechanism by which users can attribute good or bad "karma" to the strangers they match with.
Good vibes equals good karma. Bad vibes equals bad karma. It's basically like having a neighborhood watch and a police force keeping Emerald Chat as safe as possible. While this is a great step in the right direction, keep in mind that like similar attempts by chat sites to secure their platform from bots and sex-crazed dick-slingers, all of these measures are retroactive, not preventative.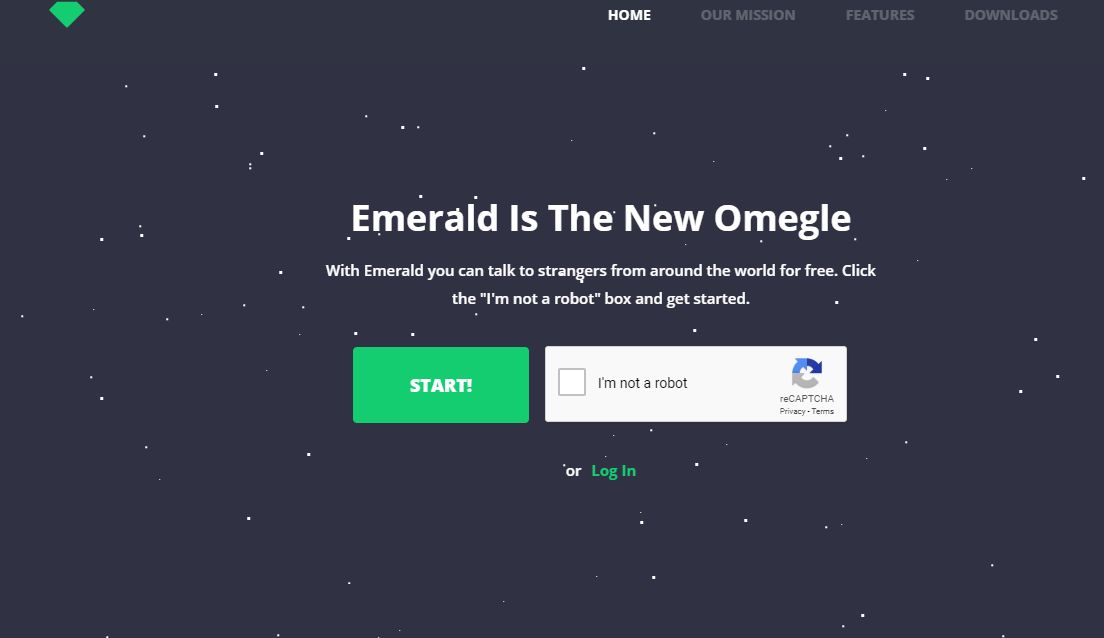 On Emerald Chat, your match history can be accessed from your profile so when you're disconnected from a user, it's easier to find them again later. Admittedly, this is a double-edged sword and can either be an avenue for genuine friendship or harassment depending on the user's intentions.
Because Emerald Chat doesn't require its users to sign up before participating in its online community, the site isn't storing information like email addresses, names, or passwords. Instead, the platform largely relies on word of mouth from its members to determine which users get weeded out.
If you have been reading our chat roulette reviews you are familiar with this theme. Check out the screenshot below.
This was the first person we encountered; a man with his head off-camera rubbing his dick through his pants!
The bottom line: be wary of Emerald Chat and random chat sites like it. Although this platform seems to be highly concerned with the quality of its user base, its safety measures are hardly 100% effective. Just remember that this is not a sex-centric community, so searching for your next hookup by chatting with strangers here might just give you some bad karma!
Instead, use a trusted cam site like Streamate.com for naughty webcam shows with the world's hottest models. Our streamate reviews explain why it is one of the safest ways to talk to girls on cam about sex. Not to mention it is an affordable live sex cams site costing typically less than a few dollars per minute. You also might want to consider reading our ImLive review or the reviews on myfreecams.
Video chat is really common among consenting adults these days and the aspect of being able to talk to strangers about sex is kinda hot. We get that! The consideration you really have to make though is this the place to talk to girls and jack off on cam?! Probably not.
Stick to top cam sites for those activities and not this site or sites like it such as dirtyroulette.
The idea this is a new Omegle, really isn't a good one! Omegle sucked then and in general, the time we spent on this so-called random chat app called emerald chat was time wasted. It reminds me of the boring user experience of chatalternative to be perfectly honest.