Since 2009, Omegle has become the poster child for the random chat site genre. Its concept is very simple: connect random strangers from anywhere in the world to chat one-on-one using their respective keyboards, webcams, and microphones.
Omegle and random chat sites like it have one virtue in common: total anonymity. Since Omegle's launch, rise, and decline, newcomers to the genre (Omegle alternatives) have been popping up left and right, all preaching free anonymous chatting with strangers.
Our Omegle.com review shares everything to know before you use Omegle cams.
Omegle Review: Too many flaws!
By default, Omegle is monitored to help keep content clean using image recognition algorithms. On this version of Omegle, users thirteen and up are free to chat as long as they adhere to basic Internet etiquette (don't wave your dick around).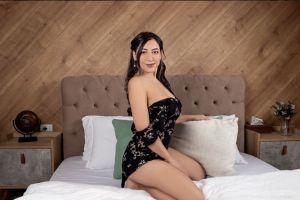 However, in 2013, Omegle introduced an unmoderated version of the chat site that allows adult content to be shared between users.
While the unmoderated section is clearly only supposed to be used by adults, unfortunately, the site has no methods in place for verifying users' ages since it doesn't require registration. A BIG FLAW!
There are a couple of features on Omegle that allow users to narrow down the pool of strangers they could connect with.
You can include your interests if you want to focus on a specific topic, or you can enter a college email address to chat with other college students.
Badly, if you choose to do the latter, the person you connect with will be able to see which college you are affiliated with and possibly figure out your general locale.
Omegle is a USELESS site to hangout. Here are some of the reasons users are complaining about,
No Age Verification
Perverts
Spam/Abuse Messages
Bad User Interface & Experience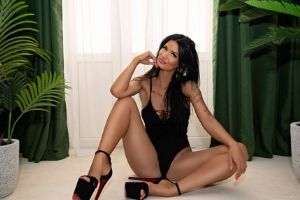 This is not recommended as Omegle itself claims that "predators have been known to use" it. 
Omegle.com was once a decent platform where we had chatted with legit users, but over years it has become a CREEPY place to spend time.
If you're new to this site and want to know where to spend great live cam chat with girls, we bet the Flirt4Free & Chaturbate (review at the links) are your best shots!
Omegle Features & Prices (What is Cam Spy Mode?):
Omegle also offers "Spy Mode," where you can post a question for two strangers to discuss. You won't be able to interact with either participant for this kind of chat, but hopefully, you can get your question answered in the process.
Spy Mode is best when you're watching couples or girls performing live on cams.
Take a look at how Omegle home looks like,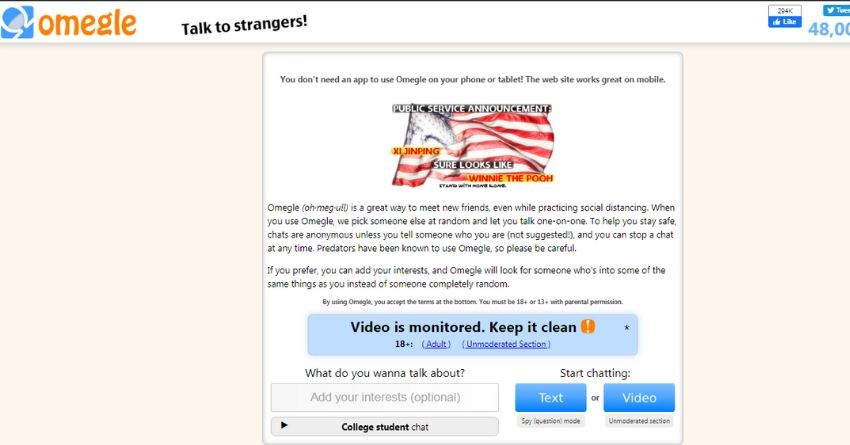 The homepage is fucking obsolete at the moment. Best advice for the readers, never enter an old site that offers free chat module. You never know what information can be stolen or misused on the website.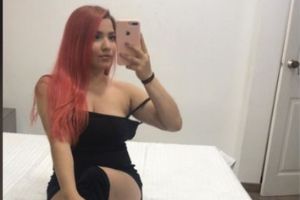 Clearly, Omegle isn't good for any of those mentioned reasons. The result is a clear denial from legit users. I would rather spend a good amount of my time and money on adult sex cam sites.
Of course, if you want your random chat to get really sexy, Omegle includes an "Adult" section as well.
This does not lead to an Omegle page, but rather a totally different website: BongaCams (Review at the link)
The text chat is full of bots and Video chat is full of creeps.
How do common users or even adult cam users would use the Omegle site? We can only laugh about it and move on.
Omegle was one of the front runners of free chat sites, in fact, a lot of sites followed the same pattern but in better user experience and interface.
Take EmeraldChat (review at the link) for example, it's good in the design but was that good enough to satisfy adults?
Let's be honest, people who come for chat random sites like Omegle has different reasons, some may look for friends, some may look to spend time and kill the boredom, some may look for networking and some may look for adult chat and fun.
Adults are clever these days, they have a variety of random chat sites to choose from. Omegle is out of the competition for a long time. Last time I heard, it was CamSurf (review at the link) which occurred to be a free random video chat site.
My best suggestion would be, to read the reviews about free chat sites and then sign up for it. Spending 5-10 minutes here will save you from stepping into shitty and vulnerable platforms.
Omegle Findings & Summary:
Omegle is a steadily declining platform. With only 20,000 users online at any given time, it's nowhere near the height of its glory days. Perhaps that's for the better.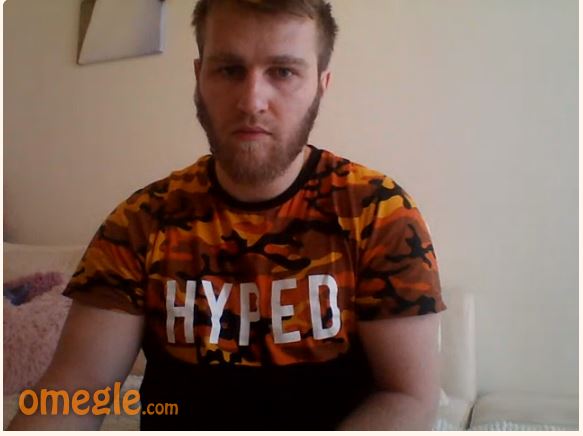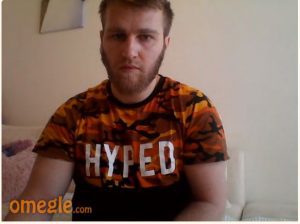 Omegle is a parent's worst nightmare. The site created a section that is obviously adult-oriented but doesn't effectively prevent minors from accessing it. They never care and they won't do in the future also.
In fact, the concept of a totally unmoderated random chat platform is a perfect storm for bringing out the worst the Internet has to offer: an endless stream of dicks, trolling, and spambots.
Don't revisit this Internet relic called Omegle – NOT WORTH YOUR TIME MATE!
Register on a real cam site with real women. There are so many options out there but our number one go-to is Streamate.com with any second thoughts.
Don't waste your time on randoms when you can chat with sexy girls in Streamate site that offers an elite premium cam experience with the hottest cam models on the web.