At first glance, Jerkmate looks like a brand new cam site with a hip, modern design, but don't be fooled! Jerkmate is actually a cleverly disguised Streamate clone site.
This means that Jerkmate retains Streamate's main features and its models, but its branding and member support are unique to the white label.
Unlike many other clone sites, Jerkmate attempts to appeal to women. Keyword: attempts. For some odd reason, Jerkmate finds it necessary to man-splain masturbation to women within their pitch.
This embarrassment is quickly overshadowed, however, by the site's assumption that all women have a natural instinct to masturbate with other women.
This is particularly strange when you consider that Jerkmate doesn't just host cam girls. Oh, Jerkmate. We gotcha. You're nothing but a blunt copy of Streamate.com
Jerkmate Review: Exact CLONE of Streamate!
As you enter Jerkmate's homepage, you will be instantly greeted by Jerky, an innocent-looking avatar that pops up for no reason whatsoever, kind of like Clippy from the olden days of Microsoft Word.
"What are you looking for?" Jerky asks as he swerves around a preference questionnaire. The questionnaire is very basic and asks for very generic responses so you won't find the same model every time you respond to it.
After my first run-through, the questionnaire eventually led me to a preview of my "perfect" match: a curvy Latina in black lingerie. Below her preview, the page displays several rows of similar-looking girls. Hang on a minute, it is actually the Streamate.com that happens to display like this.
Attempting to search for girls through any other method is incredibly frustrating though, so if you have specific preferences on Jerkmate, you'll have to conduct your search on its more Streamate-y counterpart: Jerkmatelive.
Jerkmate creator is a jerk for sure. You really can't just steal someone's ideas and make money out of it. Yes, we are talking about Streamate.com. Wanna know why we say that? Check the images below and look at reality.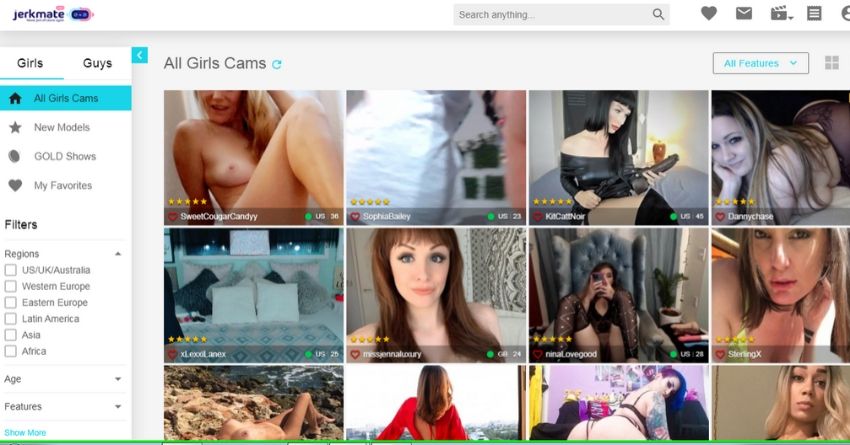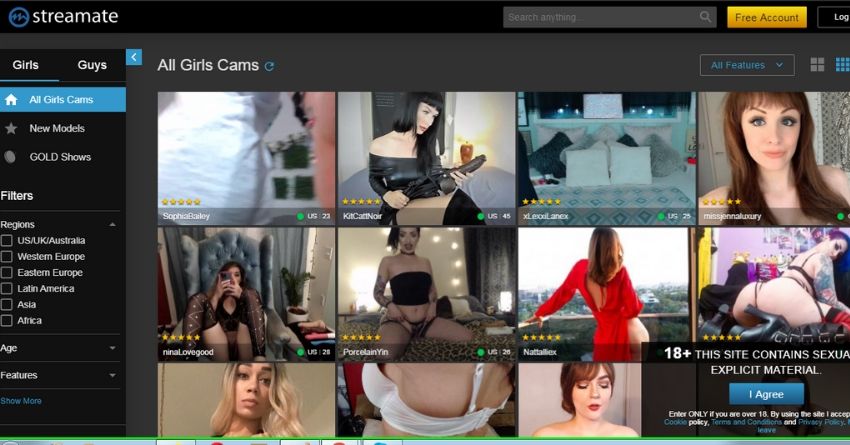 Every single thing we thought of Jerkmate is a BIG LIE. Starting from the models, live streaming videos of hot girls, the features, pricing, you name it, JERKMATE is a CLONE of Streamate.com
Jerkmate Features:
As you can expect from this white-label, Jerkmate has many of the features we love on Streamate:
Cam-2-cam: Allows members to turn on their webcam and microphone for two-way video chat during Private and/or Exclusive shows
Confidential Phone Service: Allows members to call models anonymously during Private and/or Exclusive shows
GOLD Shows: A type of crowd-viewing show that requires multiple members to contribute towards a goal amount set by the model. Once the goal is reached and/or their countdown runs out, it's time for the show to begin.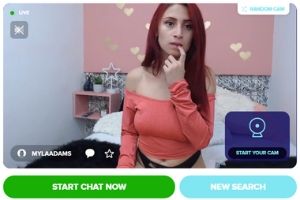 Just like Streamate.com, Jerkmate runs on GOLD. Since it converts directly into US dollars, GOLD takes all the confusion out of arbitrary token values you might run into on other cam sites.
Prices on shows and content will definitely vary from model to model though, so keep this in mind as you browse.
If Jerkmate can easily copy someone's business and make money. Imagine your personal information and payments, Jerkmate is not a safe place. I would rather visit Streamate.com the original site than a copied site.
Jerkmate Findings & Summary:
What is Jerkmate? Jerkmate is a very convincing faux, but a faux nonetheless. I loved the site's preliminary questionnaire. It's a great way to get first-time visitors excited and curious about the models on Jerkmate.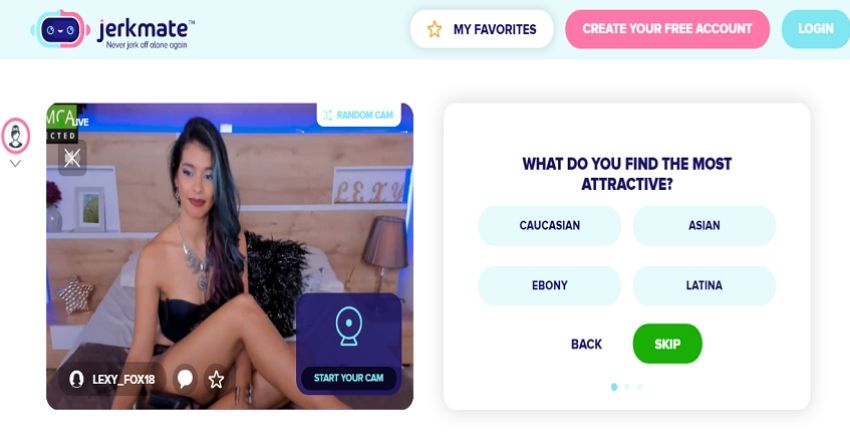 If we haven't used Streamate.com and directly came to Jerkmate, sure as heck we could have leaned in the wrong platform. But thank god for identifying the hard reality of this adult cam site's work.
With that, my excitement for Jerkmate begins and ends there. Its also a weak attempt to corner the market on female masturbation is so out of touch it's laughable, but otherwise, Jerkmate delivers the same quality experience you'd expect from a Streamate.com white label.
We have seen many adult cam sites, but what Jerkmate has done is way too low. Jerkmate is a polished clone of Streamate.
But on the front end, Jerkmate market themselves as a different site. The moment you try to register on that, you'll be redirected to Jerkmatelive. That is not smart. That is FILTHY WORK FROM JERKMATE.
End of the day, If I were you, I would rather spend time and money on Originality than a cloned site. Make sense right? Fuck Jerkmate!
Enjoy watching erotic cam girls in Streamate.com, the elite platform the way it was intended.